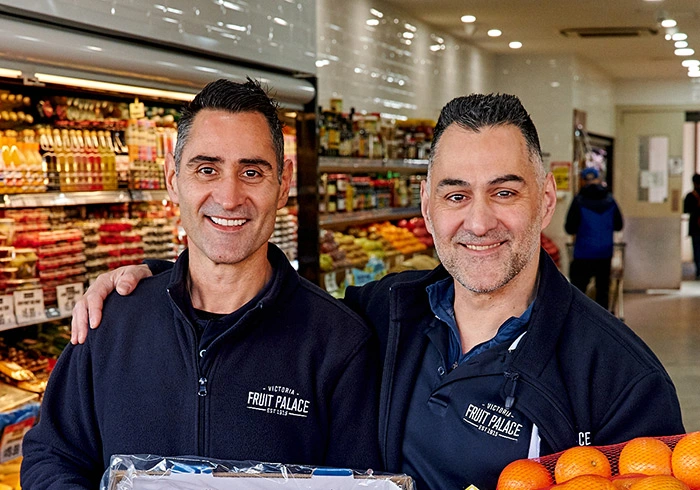 Victoria Fruit Palace has been supplying the residents of Ripponlea and beyond with quality fruit and vegetables for over 100 years. The shop is currently owned and managed by brothers Bill and Kon Maglis, second generation fruiterers whose parents Harry and Stella started here in 1976.
Locally sourced, quality guaranteed.
"The best fruit and vegetables in Elsternwick hands down. Wide range of dried goods, biscuits, sauces, condiments smallgoods and cheeses too"
"I have been shopping at Victoria Fruit Palace for years and I could not be happier with the experience. I love shopping in store which is always so clean and immaculately presented. During covid-19 I have used their home delivery service every week and it has been outstanding. Thanks to the wonderful team for always providing the best fruit and veg on the market with a smile."
"Stunning produce well curated by a family who knows their business and takes a genuine interest in their customers. They cater for Kosher, gluten free, Keto , organic , a little special something or just plain fresh and fabulous produce."
Premium fruits and veg! Quality service and friendly staff. Never disappoints.
Awesome produce, quality selection, ambience and staff. The location is ideal. Everything looks and tastes great. You pay a bit more, but it's worth it!!!
This is a superior green grocer. It's got a great range of fruit & vegetables plus a great many things as well. It certainly worth a visit. You won't be disappointed.